Eurex Exchange's Quarterly Equity Derivatives Highlights - Q3/2019
Release date: 17 Oct 2019
| Eurex Exchange
Eurex Exchange's Quarterly Equity Derivatives Highlights - Q3/2019
The third quarter continued to be dominated by macroeconomic and political news flows. Monetary policies by the FED and ECB in particular, signs of economic stabilization in the U.S. and glimmers of hope for a cease fire in the U.S./China trade war were offset by the ongoing Brexit soap and the numerous dramas surrounding the U.S. presidency. We observed some more market volatility but a noteworthy upward trend is not yet seen. 
In our equity option segment, the Dutch Swiss and French segments showed another strong quarter of growth while the German segment recorded lower volumes due to decreased activities in Deutsche Bank, E.ON, Siemens, Thyssen and Lufthansa. These declines were partly offset by considerable volume growth in Daimler, UBS, ABB, Nestlé and Nokia options.
This quarter also marked the first full quarter of the Passive Liquidity Provider Protection (PLP) pilot phase. PLP is a new model to further improve the liquidity picture and price discovery process of the order book. A first evaluation has shown positive results in the German and French segment in terms of available volume and a decrease in spreads relative to their respective control group (Swiss and Dutch segment).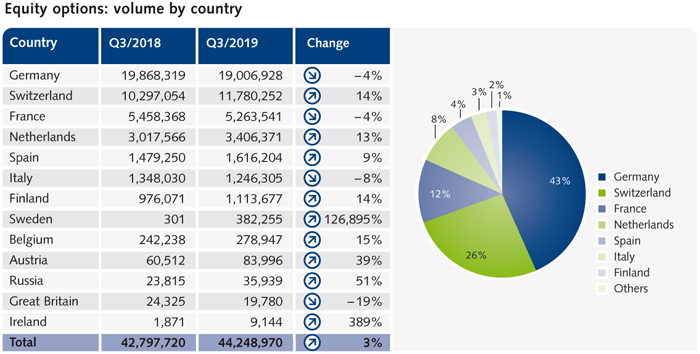 Our Single Stock Futures segment continues to be the success we expected when launching the segment in 2005. The Dutch and French SSFs more than doubled their volume this quarter and Finnish SSFs saw a big increase, in particular due to Nokia. The introduction of the physical delivered contracts is also showing its relevance with around 465,000 traded contracts this quarter. On 21 October, nine new futures (Teamviewer, Belimo Holding, Siegfried Holding, Dätwyler Holding, Forbo Holding, HelloFresh, RTL Group, BE Seminconductor Industries, Prosus) will be introduced, further expanding the offering in small and mid-cap stocks.
For a full list of Eurex Exchange's equity derivatives, please visit our website.
Subnavigation
Eurex Group on