Eurex Exchange's Quarterly Equity Derivatives Highlights - Q1/2019
Release date: 17 Apr 2019
| Eurex Exchange
Eurex Exchange's Quarterly Equity Derivatives Highlights - Q1/2019
The first quarter of 2019 showed a clear continuation of the previous quarter with stock indices trending up and volatility trending down hovering around historic lows. There is ample cause to be cautious though. Europe still doesn't know how Brexit will play out or how its effects and looming trade wars could affect the economy. Being cautious could explain the continued strong volume development of our equity options and futures segment in the first quarter 2019. The options segment showed a robust development versus the already strong first 2018 quarter with considerable growth rates in especially the Swiss, French, Dutch and Italian segment. Four Swiss equities Zurich Insurance Group, Nestlé, Novartis and UBS all lead the ranking in terms of traded contracts. 
The strong volume performance of the Swiss segment coincides with the ongoing traction of our Eurex EnLight service in the Swiss Single Equity options segment. Eurex EnLight is the selective RFQ service within the regulated exchange environment aimed to bring on-book efficiency to the off-book market. Since the launch of Eurex EnLight, a total of 529 requests have been initiated in equity derivatives resulting in 240 transactions, a trade to request ratio of 45%. The average transaction size amounted to 906 contracts. The success of Eurex EnLight has prompted Eurex to extend the service to all equity and equity index options as of 2 May 2019. Be sure to be ready for Eurex EnLight. Please don't hesitate to contact us for more information on this service.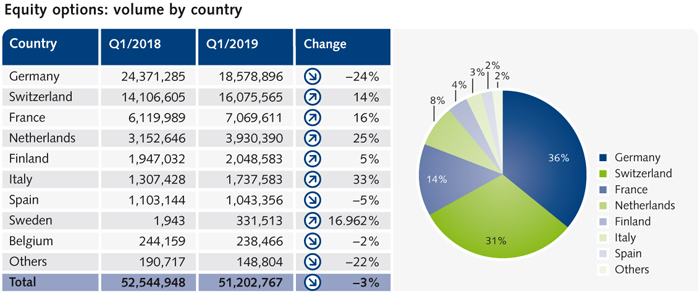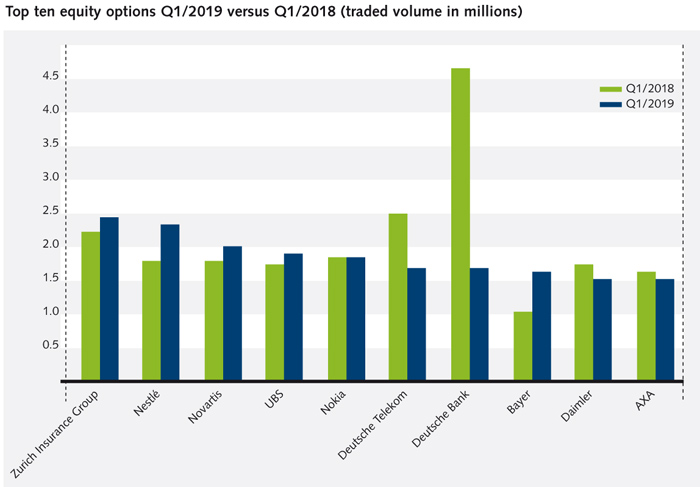 The Single Stock Futures also continued their volume growth versus the first quarter last year with a segment growth of 54 percent. Single Stock Futures offer a broad range of usage in combination with hedging strategies, cash extraction or relative value strategies. Although the French segment has overtaken the Spanish segment in terms of volume due to AXA, Total and Crédit Agricole, the largest futures contract continues to be Banco Santander.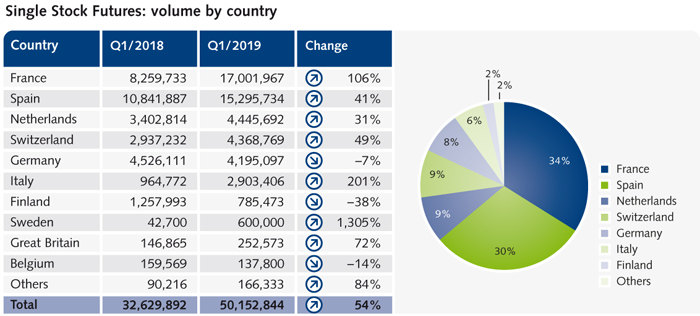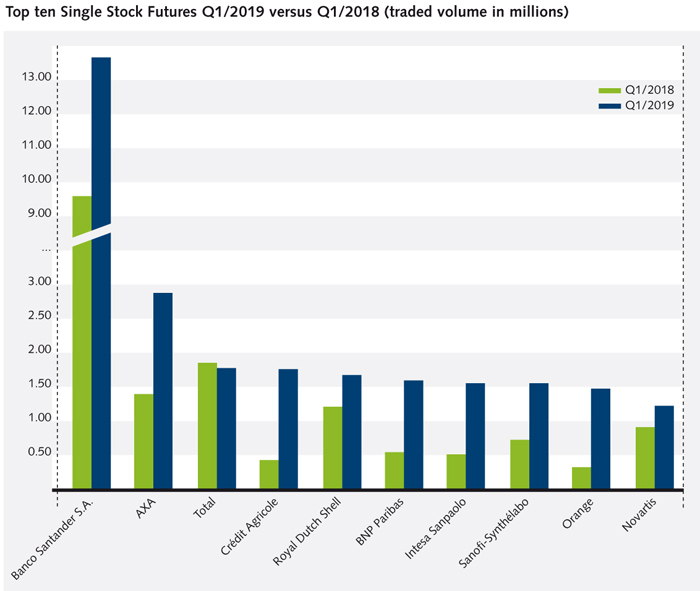 For a full list of Eurex Exchange's equity derivatives, please visit our website.
Subnavigation
Eurex Group on