Make the most of your IDX visit with Eurex
Release date: 29 May 2019
| Eurex Exchange, Eurex Clearing, Eurex Group
Make the most of your IDX visit with Eurex
The annual IDX conference will be held on 4-5 June at the Brewery in London. We, Eurex team, are looking forward to meeting you there! We would like to draw your attention to some of the events we're organizing, making sure you get the most out of your visit.

1.    A Taste of IDX with Eurex Board Members

Day 1 - 4 June 2019, 4:00 - 6:00 p.m. - Eurex Booth # 7 & 8
Join us to celebrate the end of the first day by sharing a refreshing drink with the Eurex Executive Board Members. We'll have some great beers and wines ready plus some snacks of course. Our board members will be present and at 4:00 p.m. we'll draw from the business cards we received to give away a magnum bottle of champagne. Do make sure to have put your card in ahead of time! 

2.    Eurex Summer Garden Party 

Day 1 - 4 June 2019, 6:00 - 8:00 p.m. - The Brewery Courtyard 
An IDX tradition! The true closure of the first day has always been the evening reception. A can't-miss for all participants. Eurex Exchange and Eurex Clearing are the sponsors of the event and the motto this year is: "Eurex Summer Garden Party." Join us at the Courtyard to relax, network and discuss the latest developments. 
 
3.    The Eurex Debates

Day 2 - 5 June 2019, 1:45 - 2:45 p.m. - Queen Vault room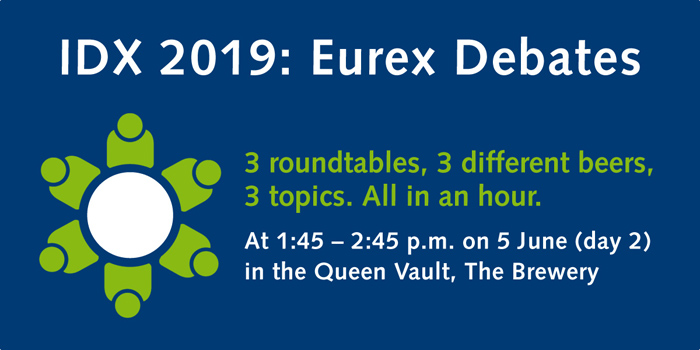 Three roundtables, three different beers, three topics. All in an hour.
Join us for thought-provoking and controversial roundtable discussions!  Let's take a different approach and play devil's advocate on some of the common beliefs and benefits on well-known topics such as ESG, IBOR reform and market structure.
Do ESG futures truly help to lower cost of trading? Will the new Risk-Free Rates change anything? How can market structure make trading fair? Each roundtable includes experts from Eurex, the sell and buy side plus a senior industry expert who will engage with the audience on and around their table on the above-mentioned topics.
4.    IDX Highlights

Day 1, Tuesday 4 June 

11:15-12:15 p.m. (King George room):
Exchange Leaders
with Thomas Book, Chief Executive Officer, Eurex
 
10:00-11:00 a.m. (King George room):
Incentives to Clear: Have We Reached a Sweet Spot?
with Erik Mueller, Chief Executive Officer, Eurex Clearing
10.00-11.00 a.m. (Queen Charlotte room): 
IBOR Transition: How Can Futures Help? 
with Lee Bartholomew, Head of Fixed Income Product R&D, Eurex
11:15-12:15 p.m. (King George room):
The Impact of ESG Issues on Listed Derivatives
with Vassilis Vergotis, Executive Director, Eurex 
1:45-2:45 p.m. (King George room):
Commodity Derivatives: The Prospects in Europe
with Steffen Koehler, Executive Director, EEX
1:45-2:45 p.m. (Queen Charlotte room):
The Future of FX
with Jens Quiram, Global Head of FX, Eurex
1:45-2:45 p.m. (Queen Vault room):
Eurex Debates  
 
Table 1: ESG
Market Expert: James Gloak, Sustainable Investing Analyst, EMEA, BlackRock
Eurex Expert: Zubin Ramdarshan, Head of Equity & Index Product Design, Eurex
Moderator: Brendan Maton, independent journalist
Table 2: IBOR
Market Expert 1: Alon Braginsky, Head of Trading, Inbar Group 
Market Expert 2: Vanaja Indra, Market and Regulatory Reform Director, Insight Investment
Eurex Expert: Lee Bartholomew, Head of Fixed Income Product R&D, Eurex
Moderator: Catherine Alexander, Sales Fixed Income Derivatives, Eurex
Table 3: Market Structure
Market Expert: Daniel Neeteson, Principal Strategy, Optiver
Eurex Expert: Jonas Ullmann, Head of Market Functionality, Eurex
Moderator: Vassily Pascalis, Vice President, Eurex 
 
Subnavigation
Eurex Group on